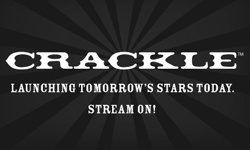 Sony Pictures Entertainment
has announced that it will begin
streaming
over 100 full-length feature films on its video site
Crackle.com
including
Spider-Man 2
,
Stripes
and
Godzilla
.
The move follows Sony's
previous deal with YouTube to stream full movies
through the popular video sharing site.
Sony notes that Crackle users only spent 5 minutes on average on the site for the month of March, and Sony is hoping to keep users around longer, especially if they are viewing more ads.
Although the site is no competition against YouTube,
Hulu
and
TV.com
, the site posted an 84 percent gain in streams to users, year on year, for the Q1.
"Our movie lineup is unmatched online,"
adds
Sony Pictures Television senior VP of digital networks Eric Berger.