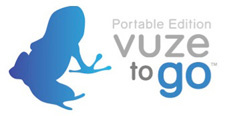 Vuze
, the popular Java-based
BitTorrent
client formerly known as
Azureus
has now released a portable version, but for a price, $9.99 USD to be exact.
The version can be carried around on a flash drive or external HDD and the decision to sell the version was based a recent survey of Vuze users that showed 72 percent of users own a portable drive.
Because most people do not have Java installed on their portable drives,
Vuze To Go
has its own virtual operating system in conjunction with the 'virtualization' technology company
Ceedo
.
Chris Thun, Director of Marketing for Vuze
added
that the price tag was unavoidable thanks to their deal with Ceedo.

"We've invested in creating a portable solution that has an entirely different ease-of-use relative to any other solution in the market. We believe that if we're solving a real problem in an elegant way, our users will be willing to pay for it."

"The Vuze application bundled into Vuze To Go is still open source. However, the Ceedo virtualization package is not open source,"
Thun concluded.