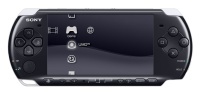 According to a
Cnet
report,
Sony
has been speaking to the major record labels in an effort to open a music store for the
PlayStation Portable
handheld.
There has been no deals struck however, and the talks are still in very early stages, notes the sources.
The legal music download store would be available through the
PlayStation Network
and would put the gaming device in even closer competition with media players such as the
Zune
and the
iPhone
.
Adds Wedbush Morgan Securities analyst Michael Pachter:
"This makes total sense that Sony would try to get content for the device. If Sony is smart, they would manage it the same way iTunes has and be device-agnostic. Whatever you get on a Sony site should play on an iPod as well.

"(Sony) should want that but right now you can't download a Sony PSP game to an iPod Touch because the operating system won't allow it. I know I can get music from iTunes to the PSP...It's just a question, but I wonder if Sony will configure the PSP so it would be incompatible with iTunes. They could come up with their own proprietary format for music so that MP3s won't work."
We can only hope that Sony will choose to bring the music in an open format and not in a proprietary format that nobody will pay for.