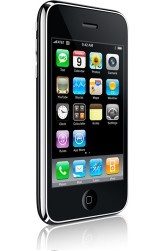 Apple
seems to have another hit on their hands, with the company already warning that the upcoming
iPhone 3G S
will be sold out on launch day and anyone pre-ordering after the 13th will not receive theirs on launch day.
AT&T
, the exclusive US carrier, has been telling customers that anyone pre-ordering past that date will receive their devices in one to two weeks after the order is made.
A couple of the new software features from the upcoming iPhone 3.0
firmware
will only work on the new 3G S model, and those are specifically, support for voice control, new camera controls,
video
capture
, electronic compass, hardware encryption of all data and Nike + iPod support.
The voice control allows for, as expected, voice dialing. The new camera features include "rapid
shutter
, low light, macro and autofocus, touch controls for automatic refocus, exposure and white balance settings." The camera will also be 3MP.
Video capture will allow for trim editing and easy uploads to MobileMe and YouTube. The hardware encryption will encrypt all internal data, making remote wipes instant. The compass, well, shows what direction you are facing on a map display.
The 3G S will hit stores on the 19th.