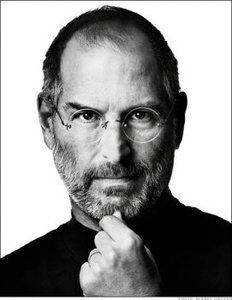 In early January,
Apple
CEO
Steve Jobs took a leave of absence from the company
prompting many to question the CEO's health.
At the time he said:
"As many of you know, I have been losing weight throughout 2008. The reason has been a mystery to me and my doctors. A few weeks ago, I decided that getting to the root cause of this and reversing it needed to become my #1 priority."

"Fortunately, after further testing, my doctors think they have found the cause—a hormone imbalance that has been "robbing" me of the proteins my body needs to be healthy. Sophisticated blood tests have confirmed this diagnosis."
A
Wall Street Journal
article today states that Jobs had to receive a liver transplant two months ago but is fortunately recovering well and is expected to return to his position at Apple later this month, in a part-time role until he is completely recovered.
Apple responded to the rumor simply stating,
"Steve continues to look forward to returning at the end of June, and there's nothing further to say."
A
source
within Apple says Jobs may have to work only part-time for the first two months, which would in turn give Tim Cook, Apple's COO, a "more encompassing role." The source also see Cook being made a board member in the near future.
The
United Network for Organ Sharing,
the group in charge of the transplant network in the United States, added that Jobs had his surgery in Tennessee because the list there is by far shorter than any other in the country. The "median number of days from joining the liver waiting list to transplant was 306 nationally" in 2006, while in Tennessee, the median average of days was only 48.