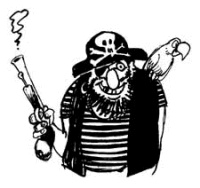 Beginning at the start of August,
Louisiana State University
will begin fining students who are caught pirating music and movies on the campus network. The fine, according to the school's newspaper, will be $50 USD.
Says the
Daily Reveille
:
"Sheri Thompson, IT planning and communications officer, said she understands a typical RIAA subpoena to be $4,000. (...) '$50 isn't $4,000 and isn't debilitating and going to be the difference between them being able to live their life fully,' Thompson said."

Making the decision somewhat surprising however, is the face that the
RIAA
decided to abandon the much controversial "mass lawsuit" strategy earlier this year.
The newspaper article also says that the school registered 200
DMCA
notices last year, meaning the school could have raked in an extra $10,000 USD.