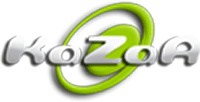 Yesterday we reported that the once
infamous
P2P
client
Kazaa
was set to make a comeback, this time as a legal net music store.
The timeline was unclear, but the store has gone live today.

Reads the site:

"Kazaa is a subscription-based service brought to you by Brilliant Digital Entertainment (BDE) a leading online distributor of licensed digital content. BDE provides the means for record labels, film studios and software developers to market and sell their products to a worldwide audience of 70 million users. With the Kazaa service you get unlimited access to hundreds of thousands of CD-quality tracks for one low monthly fee.

For just $19.98/mo, you can download unlimited music files, and play those files on up to 3 PCs that you own. The subscription package is for PC only, which means that you won't be able to play those files on a portable music player. The files will remain playable while your subscription is active – once your subscription ends, you will no longer be able to play those files.

The subscription package also enables you to download unlimited ringtones to a single cell phone.

Unlike other music services that charge you every time you download a song, Kazaa allows you to listen to as much music as you want for one low monthly fee. This allows you to explore all the music you want without having to pay for every single track or album."