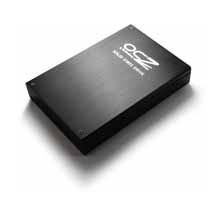 OCZ
has announced the launch of their
Colossus
solid-state drive (
SSD
), which will offer an impressive 1TB of storage space.
The drive will be aimed at consumers needing an external drive and will be specifically marketed to gamers, due to its extremely fast speed and high capacity.
ComputerWorld
says the drive will use a
Indilinx
controller and will "come with two or four controllers depending on the capacity, and can be configured for internal RAID 0 for increased performance."
Each controller is a
virtual drive
, running off a seperate RAID controller.
The drive has "a maximum sequential read rate of 261MB/sec and a maximum sequential write rate of the same rate."

"The initial results we have tested show that the Colossus really excels in the small file random reads/writes,"
an OCZ spokeswoman said, via
CW
.
Now however, comes the only catch, the extreme price tag. A standard 1TB 3.5" HDD costs between $70-120 depending on model and make. The Colossus will run you $2200 USD. Maybe a thing to consider before throwing it in that new rig you have been making.