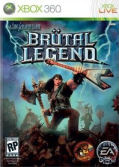 Los Angeles Superior Court spokeswoman
Vania Stuelp
told attorneys on Wednesday that
Activision
notified the court of a settlement reached over a lawsuit aimed at blocking the release of
"Brutal Legend"
. Activision has claimed to still own the rights to Brutal Legend, which was developed by San Francisco-based
Double Fine Productions
and due to be released by
Electronic Arts
.
Activision claimed that Double Fine had failed to deliver the title on time and that it still owned the rights to it. Double Fine countersued Activision, alleging that Activision had terminated its agreement to release the title following a failed attempt to make it part of the
"Guitar Hero"
series of games.
A hearing scheduled for Thursday morning to decide on whether
an injunction would be imposed was canceled
, though Superior Court Judge
Craig Karlan
had indicated that he was inclined to deny Activision's requested. Brutal Legend features
Jack Black
as a band roadie transported to a mythical world to battle evil.