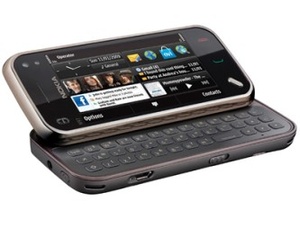 Nokia
held the opening keynote today in Nokia World conference. Nokia CEO
Olli-Pekka Kallasvuo
and Executive Vice President
Anssi Vanjoki
revealed the already exposed
N97 mini
-- the little brother of the current flagship -- as well as two new
Xseries
phones,
X3
and
X6
.
As some of you might already know N97 mini features a 3,2 inch touchscreen, sliding full QWERTY keyboard, 8GB of internal memory, 5 megapixel autofocus camera with dual LED flash, A-GPS, FM radio, WiFi, 3G connectivity with HSDPA, Bluetooth with A2DP and 3,5mm headphone jack. The brothers are pretty similar, but there are some differences as well. The N97 is a tad larger with a 3,5 inch screen, has a navigation pad on the left side of the keyboard, features 32GB of flash memory and is obviously more expensive. N97 mini has an estimated retail price of 450 euros (approx. $640) before taxes and subsidies.
X3 and X6 are the first devices for the Nokia's new line of phones, Xseries. Xseries is a follow-up for the popular
XpressMusic
series which aims to attract music enthusiasts.
The cheaper of the two, X3, is the first Symbian S40 phone to offer Ovi Store. The phone comes with rather basic features not supporting 3G connections, GPS or WiFi. The X3 slider however sports a 3,2 megapixel camera, stereo Bluetooth, FM radio, stereo speakers, microSD slot and a price tag of 115 euros ($163) before taxes and subsidies.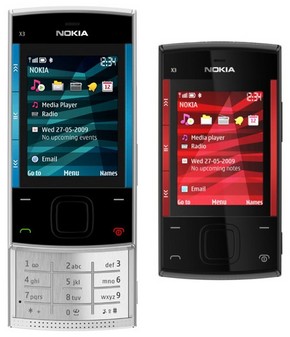 Nokia X3
The another Xseries phone, X6, is a S60 5th edition phone with a whopping 32GB of internal memory. The phone features a 3,2 inch
resistive glass touchscreen (confirmed by Nokia due to rumors about capacitive touchscreen)
capasitive -- yes, capacitive like in iPhone -- glass touchscreen (UPDATE: Nokia sent us a new email correcting the previous statement about resistive touchscreen)
, 5 megapixel autofocus camera with dual LED flash, A-GPS and WiFi. It shares the same new Xseries design with X3 and will likewise ship in Q4 2009. The phone will cost 450 euros ($640) plus taxes with a Comes with Music contract that includes unlimited amount of music.