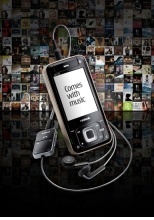 Nokia Corp.
, the world's largest handset maker, has revealed that it will delay the launch of its
"Comes With Music,"
service in the United States despite previously having planned to launch it soon. The service will now be available in the U.S.
sometime during 2010
. The service first launched in the UK and then was followed by 9 other countries, showing up in emerging markets.
It's performance in the UK hasn't been notable however, but it does seem to do much better in emerging markets. It allows users to download and listen to an unlimited amount of music with their compatible Nokia handset for 12-18 months after buying the unit.

"Comes With Music has been below expectations in developed markets, though Nokia is having more success in emerging markets," said Mark Mulligan, an analyst with Forrester Research. "In Western Europe and specifically Great Britain, Nokia has been hindered by not having a strong operator route to market."

Nokia managed to link up with just one network operator in the UK, Orange. Network operators are very important in developed markets due to the subsidies that are offered to the customers to entice them into purchases. Other operators, including Vodafone, have already invested in their own branded music download stores.