We added a couple of new entries to our
Guide section
lately. One of these new guides is a relatively simple guide on running potentially harmful executable files safely in Windows. It could be useful for running .EXE files found on file sharing sites or networks, or any program you are otherwise suspicious about.
It utilizes freeware software that some of you more safe users will already be using;
Sandboxie
. In a nutshell,
Sandboxie
allows you to run a program (like a potential virus), which
"can"
read data from the hard drive, but when it tries to write data back (new files, editing files, registry entries etc.) they are caught in the
"Sandbox"
, so to speak.
Sandboxie
sets up temporary storage on your hard drive, and will capture data that a program running will try to write to your hard drive. Moreover, you can view the contents of the Sandbox easily to see exactly what changes a program tried to make to your files.
Read: Run potentially dangerous software safely
It has other uses too, such as running a Web browser Sandboxed. In this example, running
Firefox.exe
sandboxed will allow Firefox to read all of your data; your Cookies, Recent Activity, Add-ons, Saved Passwords & Form information etc. but anything Firefox tries to save is caught in the Sandbox, so any new data Firefox tries to write to the hard drive is caught. You can then simply discard the contents all at once, and it will be like you never even used the browser the next time you run it normally.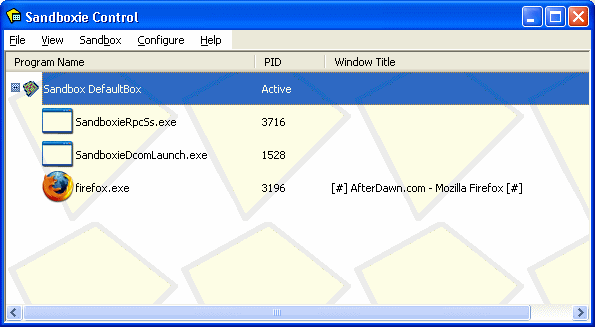 It is a highly recommended program if you are not already familiar with it. Hopefully it helps.
Read: Run potentially dangerous software safely
Some Related Guides:
Read: How to Securely Delete Files
Read: How to Recover Deleted Files
Read: Clear Private and Temp Data Quickly and Safely
Read: Use Smart Defrag to improve HDD performance
Read: Create DVD with all Windows & Office Updates