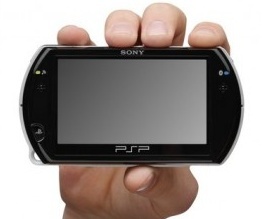 Sony
has announced today that any owner of
UMD
games who want to upgrade to the new UMD-less
PSPgo
will receive three free games via digital download if they choose to do so.
The newly dubbed
PSPgo Rewards
program "involves registering a PSPgo on PSN, then logging on to PSN with an existing
PSP
with a UMD in the drive, which allows you to download a special PSPgo theme and then presents you with a voucher via email for use with the PSPgo," says
Gi.biz
.
There are 17 titles available to download through the program, and you could choose any 3. The titles are:
Killzone: Liberation
, SOCOM: US Navy SEALs Fireteam Bravo 3, WipEout Pure, Everybody's Golf,
echochrome
, Buzz!: Brain Bender, Buzz!: Master Quiz, LocoRoco and
Patapon
.
The program will being on launch day, October 1st and will end on March 31st, 2010. It is open to all current
PSP
model owners.