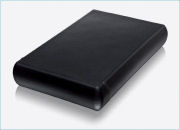 Freecom
has announced its new
"Hard Drive XS 3.0"
, he first external hard drive in the world to offer
"SuperSpeed USB"
technology - or not in marketing lingo, USB 3.0. The driver offers speeds around 130MB/s via USB 3.0, enabling the transfer of very large files in significantly less time than external hard drives available on the market at the moment.
Offering storage capacities of up to 2TB, the ultra-compact Hard Drive XS 3.0 can hold up to 400,000 MP3's, more than 1.3 million digital photos, 400 full DVDs or 2,000 movies (though we aren't sure what exactly they mean by "movies").

"The rapid transfer speeds of USB 3.0 are going to make sharing information easier than ever before, and with the rise of interactive web applications and new media showing no signs of slowing, it's arrived just in time," said Axel Lucassen, managing director of Freecom.

"From downloaded TV programmes to digital photos and music, data-rich files are abundant both at home and in the office. The Hard Drive XS 3.0 is the first drive in the world to enable users to back up even the biggest files at unprecedented speeds, combining the latest technology with style and practicality to bring a new breed of hard drive to an increasingly demanding market."

The Hard Drive XS 3.0 will be available in Europe from mid-November in 1TB, 1.5TB and 2TB capacities. Prices start at €119 for 1TB, no further pricing was listed.