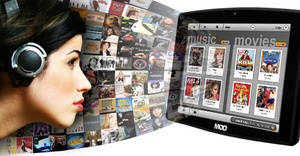 The digital movie kiosk company
MOD Systems
has launched their first kiosks, featuring films from
Warner Bros., Paramount Pictures
and
Anchor Bay
.
CEO Anthony Bay says the kiosks are part of a pilot test and will be completely in retail stores by November 15th.
A "digital movie kiosk" means users can search for movies via a touchscreen then download them to
SD
cards that can be played back on TVs, computers, phones and other devices with SD card support.
A couple of blockbuster films, such as
Harry Potter and the Half-Blood Prince
and
Star Trek
will be available in time for the kiosks and on the same day they become available on
iTunes
.
MOD is in talks with more studios to bring the content to the kiosks and expects deals before the end of the year.
I tried checking the site to see what format the films would be in, but no luck, there will be
DRM
however.