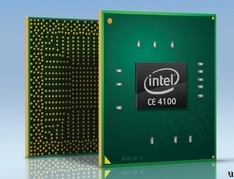 According to a study by
Ernst & Young
, released on Thursday, Internet-enabled television sets could see wider adoption in the coming years as more consumers are warming to the idea of running widgets and other features on their TVs. Widgets are mini-applications that are widely used with computers and mobile phones, and the study suggests that such mini-applications could be successfully blended with TV content.
The widgets would be designed to access the Internet and locate content that is complementary to the programming, whether it is a discussion on the content or advertisements for products that are featured in the show, which can then be ordered by the viewing using the television. This year, web-connected TV shipments will total less than half a million.
Fast forward to 2013, and the number ruses to six billion, according to estimates from E&Y's study, which cites
Parks Associates as a source
.
Sony
,
Samsung
and
LG
have select television models that would be capable of running widgets already, and
Intel
showed off the
CE4100
media processor built for set-top boxes for multimedia purposes. Intel is working with CBS and CinemaNow to develop and run widgets for TVs.
MySpace.com has also developed a widget that blends TV with its social networking services which allows viewers to send messages or browse through photos on the site from their TV.