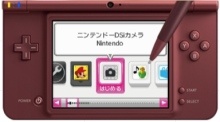 After first being confirmed for Japan and then the EU, the
Nintendo DSi
XL
has now been confirmed for the United States as well, hitting U.S. shores in the Q1 2010.
The
DSi
XL, besides keeping most of the features of the
DSi
handheld intact, adds 4.2-inch screens, a 93 percent increase on any current model's screen size.
As with the Japanese and European models, the unit will come with a standard touch pen and a longer touch screen stylus as well as DSiWare software.
Nintendo
says the new, larger screens are "designed to let small groups gather around the device for playing games."
The device is expected to retail for about $200 USD, $30 more expensive than the DSi.