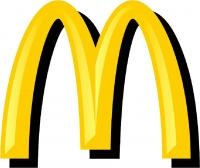 Beginning next month,
McDonald's
will start offering free
Wi-Fi
in 11,000 of its American locations.
The deal, signed with AT&T, is very similar to that of Starbucks, where users can access the Internet for free, no purchase required. Previously, the Wi-Fi was only free for AT&T customers, and $2.95 for two-hours otherwise.

McDonald's says internal research found that customers would be more willing to buy more food if they had free Wi-Fi.

"We're excited about it. One thing our customers have told us is: 'We like your Wi-Fi, but would you make it free?' This is one thing they've consistently asked for. It's just another reason to come to McDonald's," said David Groom, chief information officer for McDonald's USA.

The financial details were not revealed so it is unclear how AT&T will make any money for offering their network.