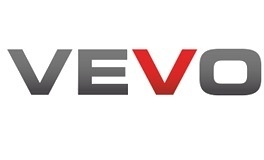 Last week three of the four major labels
launched a new service
in the US called Vevo. Vevo offers music videos from their acts, and features 100% professionally produced and officially sanctioned content.
First some history. Vevo is essentially the product of negotiations between Universal Music Group (UMG) and Google over content licensing for YouTube. Since it was announced two of the three remaining majors (EMI and Sony Music) have signed on, each taking a share of ownership in the company. The fourth major, Warner Music Group, has decided not to get involved just yet.
Although they run the servers and take a cut of ad revenue, Google doesn't share in ownership of Vevo.
The purpose of Vevo is fairly simple. Label executives were looking for a way to make monetize their content. If you didn't know that before visiting Vevo, it would become quickly apparent. When you watch a video there are often small ads which appear at the bottom of the video and links to one side for buying the music you're listening to. You are also given the option to link to a particular video or getting code to embed it in a webpage, both of which include ads which play before the video starts.
But just as we've seen time and time again from the labels (and to be fair most big content owners), that attention to detail doesn't extend to the user experience on the Vevo website which is nothing to brag about. Navigation is slow, standard features like searching and even watching videos are inferior to other websites, and from time to time you get errors for no apparent reason.

The content itself is actually pretty good. There is a good selection of music, which given time could become a great one. I was even pleasantly surprised to find some fairly obscure music, such as a song by Tom Morello's pre Rage Against The Machine band Lock Up. Of course before you can watch the video you'll have to find it and Vevo doesn't exactly make that easy.
Browsing & Searching
There are a number of ways to find content on Vevo. You can browse an alphabetical list of artists, but with thousands to look through that's not a reasonable way to find music. Especially considering you only get ten results per page and there doesn't appear to be any option to increase the number.
Browsing by genre isn't any better. The categories are so broad as to be practically worthless. There's a Rock category, but no way to narrow it down any further. By default a genre listing shows you individual videos rather than titles and they can be sorted by various popularity metrics. There's an option to list artists instead of videos, but then you are limited to only seeing the most popular ones.
Of course you would expect a service run by Google to have a search feature, and indeed Vevo does. What you probably wouldn't expect is how poorly Vevo's search works. For example, I searched for 'Black Crowes' and found nothing. Then I tried 'The Black Crowes' and found the band by the same name. After some further testing I found that just 'Black' didn't find them but 'Crowes' did. I also tested some other band names starting with 'The' but couldn't duplicate the problem.
Then I tried another twist by searching for 'Motorhead'. Once again I came up with nothing. Then I tried searching again with the umlaut over the second o (ö) and that worked. While the double dot notation is technically correct, no modern search engine should be stumped by it's ommission. Since the only other band I could think of with a name which includes such a character (Blue Öyster Cult) isn't listed at all I can't say for sure if the issue is specific to one artist or a general problem.
Recommendations
Vevo also features a recommendation system to help you find music. To begin with you need to create at least one playlist. Playlists can be used to save lists of videos for yourself and can also be seen by and shared with other Vevo users.
You can also mark songs as favorites, which Vevo can use to recommend artists, songs, or even entire playlists you might be interested in. At least that's what it should do in theory. Based on favorites consisting of nothing but heavy metal bands, mostly from the late 80s and early 90s, Vevo's recommendations included Michael Jackson, Shakira, Rihanna, and Adam Lambert. In fact the closest it came was recommending a song by The Killers and another by Bon Jovi and LeAnn Rimes.
The Player
As with any online video service, Vevo has an embedded player. And like so many other parts of their website it seems like the interface is designed for the labels rather than the viewer.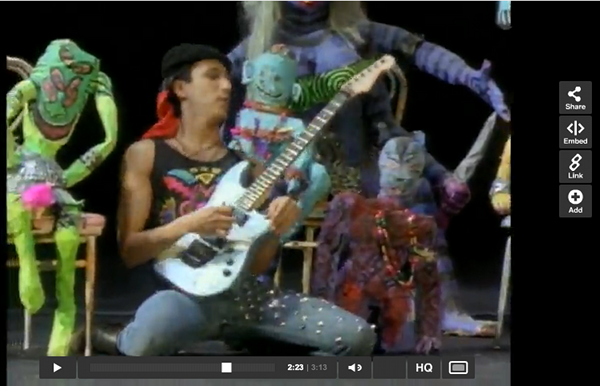 When the player first loads there are no controls visible. If you move your mouse pointer over the bottom of the video the navigation and volume controls appear on top of it. That is unless there's an ad being displayed. Since ads are also positioned at the bottom of the video frame they interfere with basic operations like pausing or adjusting the volume.
And unless Vevo's volume preset is set to your liking you will need to change it every time a new video loads because it doesn't remember any adjustments from one song to the next. It will, however, maintain your volume setting when your songs are loaded from a playlist.
Controls aren't the only problem with the Vevo player either. It's an unbelievable resource hog, using nearly half again as much CPU power as watching the same video on the Vevo YouTube channel. And that's not just for playback. Even if your video has finished the CPU load will continue until you navigate away from the player page.
This is a little strange considering it appears to be a slightly modified version of the YouTube player. Like the YouTube player it also features a HQ button, presumably so you can switch to a better stream like you can on YouTube. But unlike YouTube, that option appears on the Vevo player whether there's actually a higher quality version of the video available. In fact so far I haven't been able to find a single video where the HQ button does anything at all.
On the whole Video quality is nothing special. The videos are basically YouTube quality, although being professionally produced they're still better than most online video of similar resolution and bitrate.
Conclusions
The cynic in me suspects Google has a different goal in this enterprise than the site and content owners. It's certainly more than a little suspicious that Vevo is mediocre in areas where Google's services excel. It would be understandable if Google gave Vevo exactly what they asked for and nothing more. For years the labels have been complaining that sites like YouTube don't do anything more than take advantage of their work by offering it for free. If nothing else it would serve to make the point that it takes more than uploading some videos to be successful.
The optimist in me says it's probably just a question of launching the service before it's ready. In another six months maybe all the problems will be solved and Vevo will be a good service. Or maybe it's much simpler than that. The labels have a history of ignoring their customers and instead assuming the public will just make do with whatever they're willing to offer. It wouldn't be the first time they managed to turn diamonds into coal.