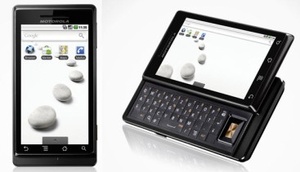 The
Motorola Droid
, the
Time Gadget of the Year for 2009
, supports multitouch, but not very well.
There are alternatives for users who want to pinch and zoom like
iPhone
users can, such as the
Dolphin Browser
, however native support is still lacking and should be even with the release of
firmware
2.1 next month.
However, a post on
AllDroid.org
is touting a new alpha version of a multitouch ROM, which is based on the European Droid (Milestone).
The ROM creator says the ROM will kill your Google Maps Navigation
GPS
however.
Interested users can read the full post here:
Mr. Milestone meet Mr Droid... V0.5