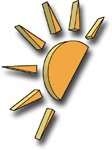 Wow, I can't believe that the Noughties are about to end in couple of hours time. It is quite mind-boggling to think that our site,
AfterDawn
, has existed through this whole decade - and then some
(as our regulars remember, we celebrated our site's 10th anniversary in June)
. I could write once again, my "traditional" New Year's summary of the past year's events, but I wont do that this time. Instead, just want to chitchat to you about this past decade.
First of all, 10 years ago, we already had a site, AfterDawn.com, that we began building in March, 1999 and that went eventually live on June, 1999. All of us, the founders of the site, were in our early twenties. I had just moved from Helsinki to New York, with my partner and our baby girl. I was witnessing the golden age of the "dotcom boom", working on one of the "dotcom darlings" of that era in Silicon Valley. It seemed that anything you'd create on the Internet would turn into gold, eventually. You could understand easily how we had the energy to first go through a normal working day in our "real life jobs" and then spend 6-8 hours in the evening to write news articles, code, design and plan for AfterDawn's future.
However, all that changed in late 2000, when the dotcom bubble burst -- investors weren't investing any more, ad rates collapsed and thousands of promising startups went tits up. Maybe luckily for us, we hadn't reached that level yet -- instead, our site was still in its very infancy, having just handful of visitors each month and lacking any greater "vision" for the future. So, we just continued our work as usual -- long, long days of work, negative cashflow that we had to compensate from our own credit cards, etc. Of course, AfterDawn was just a hobby at that time, no office, no company -- just an obsession that we wanted to see succeed. AfterDawn's "office" was really just seven guys' bedrooms all over the world and all the communication between the team was made via ICQ
(just like it is done even today)
.
In late 2002, things began to change -- cheap DVD-R drives and cheap cable and DSL lines allowed people to "find" digital video. And as we had been pioneers of that phenomenon, suddenly our site's traffic began to multiply, month after month. Furthermore, some bold advertisers were coming back to the Net, making it also possible to actually build some revenue on top of the increased traffic. All that made it possible for us to turn our hobby into a proper company -- AfterDawn Oy
(Oy = Ltd or LLC)
was founded on May, 2003. At first, it was just a shell to handle the increased complexity of our site's structure -- servers, advertisers, etc.
The digital video trend didn't seem to go away, but instead, it grew larger and larger. Eventually, it allowed us to actually drop our "day jobs" and finally focus on AfterDawn, full-time, in early 2005. At the same time, we also set up our first office
(the very same office we still have today)
in Oulu, Finland -- marking the first time ever when AfterDawn had a proper physical presence, rather than a P.O. box and seven bedrooms :-) It was also the era when we hired our first staff members to assist us with the news flow -- and nowadays the team has became so well-oiled that you rarely see any news articles written by the original founders at all, allowing us to focus on site's development.
The latter part of the decade saw AfterDawn expand to new areas in its coverage -- the era of living room technology had invaded living rooms across the globe and even the Joe Sixpack crowd were purchasing flat-screen TVs, DVR devices, next-gen consoles and media tanks for their living rooms. All that meant that the everyday life was getting much, much, more technology-oriented -- and people were flocking to our site to find answers to their questions and problems, boosting our traffic to new heights.
Ten years ago seem like a distant dream now -- we have a site, AfterDawn.com, that we publish in three languages. Our English site gathers over
4.5 million unique visitors
each month, our Finnish site is ranked as Finland's largest IT/Tech site and our Swedish site, despite it being launched in late 2008, is growing nicely. The hobby that we started now employs 15 people across the globe and provides help and information to millions of people. Lucky? Yes.
Now, as the decade is reaching its end, we have a completely new version of our site coming up that we've been working on for the past year or so. The new version is already live on our Finnish side, but wont be live on English side until end of the January. Furthermore, the new version also focuses on localization and internationalization -- we expect to launch several new language versions of our site in 2010, hoping that new countries and new visitors will also find our site when it is published in their own language.
I'd like to thank all of our staff members - past and present - for making this company the best possible place to work. Seriously. I can't imagine any other place where I come to work almost every morning feeling enthusiastic about what we do. Furthermore, I'd like to thank our moderators for making our discussion forums a place where people can get their questions answered properly and where spammers are kept at bay. And of course, I'd like to thank our spouses and our families for standing by our sides all these years, despite long working hours with no luxuries such as "free weekends" or "holidays without work".
Last, but not least, I'd like to thank all of our users -- past and present -- who have helped us to build this site that I'm extremely proud of. Without your contributions to the discussion forums, your improvement ideas and your enthusiasm, we wouldn't have made it to the end of this decade. Let's make the next one even better!
Happy new year 2010!
-Petteri Pyyny
AfterDawn.com