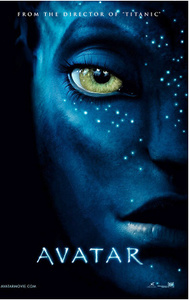 The James Cameron epic
Avatar
has already surpassed the $1 billion milestone globally, making it the fourth-biggest movie of all-time, in just 16 days of release.
According to figures from
Fox
, the movie has hit $1.02 billion, with about $350 million or so being domestic box office sales. The distributor expects overall domestic sales to surpass $500 million.
The top three movies of all time are Cameron's
Titanic
at $1.8 billion,
The Lord of the Rings: The Return of the King
at $1.12 billion, and
Pirates of the Caribbean: Dead Man's Chest
at $1.07 billion. Avatar is expected to move into 2nd place by the end of the month.
"This is like a freight train out of control,"
added Fox distribution executive Bert Livingston.
"It just keeps on going."
Expected to add to foreign sales is the fact that Avatar has just begun playing in China, and will reach Italy next week.
Avatar had a reported production budget of $230 million with a marketing budget of $130 million.