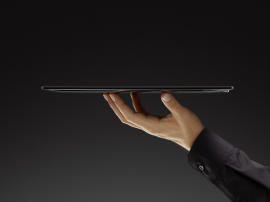 Plastic Logic
has launched the
Que
e-reader this week at
CES
, an admittedly powerful device with a giant price tag.
The button-less device has a sleek touchscreen and is completely dependent on multi-touch.
"What we are trying to do at Plastic Logic is give you the benefits of paper without all of the drawbacks," said CEO Richard Archuleta, via
Cnet
.
The e-reader can access e-mail and calendars via
Microsoft Outlook, Gmail, Windows Live
or
Yahoo
. The player can read PDFs, Excel, Word and Powerpoint documents natively. Somewhat surprisingly, the display is in black and white, and Archuleta says:
"At Plastic Logic, we really celebrate black and white."
Plastic Logic has content deals with USA Today, Zinio, The Financial Times, LibreDigital and the Que's bookstore will be backed by Barnes & Noble.
The 4GB model will include Wi-Fi and Bluetooth and will price $650 USD. An 8GB model with 3G will cost $800. There are no monthly fees. Because of the price tag, the player is likely not aimed at the mass consumer audience but more towards high-powered executives.