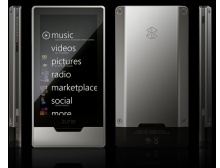 Zune HD
users should be pretty happy today given the latest
firmware
update, one that will bring native
XviD
support to the device as well as
streaming
Smart DJ.
Microsoft
says the player will soon have native support for the
MPEG-4 Part 2 ASP
codec
, and the player will playback XviD videos, which is still the codec of choice for most videos downloaded online. The format will play via your
HDTV
as well if you own the Zune
HD
Dock.
Smart DJ playlists, a "Genius"-esque song playlist creator, will also be available on the player and not just the desktop software.
If you are connected via Wi-Fi,
Slash
says "you will be able to to create Smart DJ playlists that incorporate streamed content from the Zune Marketplace, besides the songs already stored on the player."
Read our review here: Unboxing the Zune HD