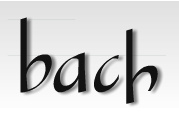 BACH Technology
, a technology company based in Norway, Germany and China, which also has the
Fraunhofer Institute for Digital Media Technology
as a partner, is pushing a new digital music file format that could be used with legal online music stores.
MusicDNA
focuses on embedding more content into the file, such as song lyrics and images, as well as making them capable of receiving media updates through the Internet.
The proposed file format has the backing of the original
MP3
file inventor (who is a BACH investor). It would store MP3 audio but provide additional content to those that legally purchased it through the Internet. The original artist or record labels could
"send"
updates to the music file over time, whether it is information on tour dates or links to new content available on the Internet.
The user would be able to control the type of content that it would receive. Users that download the file illegally would not be able to tap its additional content features. The file would work as a normal MP3 file in a portable media player. BACH is in contact with record labels, rights holders and technology companies to plot a path forward for MusicDNA.
"We are getting very good feedback and the fact we are looking to include everyone in this, and not competing against them, helps,"
Chief Executive
Stefan Kohlmeyer
told
Reuters
.
"What we are bringing back to the end user is the entire emotional experience of music. We think it got lost in the transition to the digital era. We think a beautiful piece of audio has been reduced to a number code. We want to enrich it again."
The music industry has been struck by digital music piracy over the past decade, fueled by the growth of broadband Internet connections. The idea behind MusicDNA is to offer consumers exclusive content for individual songs that wouldn't be gotten with illegally acquired files, but whether it will be good enough to entice people from free music downloads, even being illegal, is very uncertain at least.