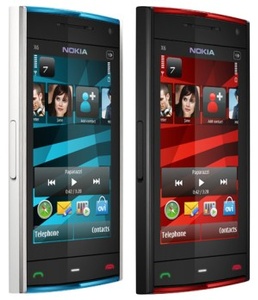 Nokia Corp.
has decided not to bundle its 'Comes With Music' service with its flagship
X6
music phone model, in an effort to boost sales of the device. By cutting the unlimited music service, Nokia can
cut the price of the phone by a third
. Nokia launched 'Comes With Music' in 2008 in Britain as a test for the service, but it has only received a lukewarm reception, largely due to a large price overall.
"Nokia will have unbundled Comes with Music with heavy heart. It's a cornerstone service for flagship products like the X6, but this move reflects operators' reluctance to offer it," said Ben Wood, head of research at CCS Insight. Nokia wanted to boost the service by bundling it with the X6 phone, but retail outlets and operators weren't warm to it.

"This was an expected move -- in our view, the early demand for the bundled X6 has been soft," said analyst Tero Kuittinen from MKM Partners. "The lack of confidence in Comes with Music has kept European operators from marketing it aggressively." The phone went on sale last year, bundled with 'Comes With Music', for around €450 ($634), excluding taxes and subsidies.

Now with the music service cut from the package, the X6 model will sell for €299, excluding taxes and subsidies. It also comes with a 16GB memory card, half of the original size.