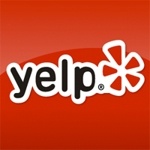 The business rating and review site
Yelp
has been sued this week by two law firms, which are alleging unfair business practices and extortion.
The class action lawsuit was filed on behalf of a veterinary hospital in California which asked Yelp to remove a negative review, but was then denied. Afterward, sales representatives from Yelp called the hospital at least once a week demanding a check for $300 to make bad reviews go away.
This is the second time Yelp has been accused of extorting from small businesses, with
East Bay Express
accusing them last year in a broad report.
Yelp responded to the new case, via
TechCrunch
: "
Yelp provides a valuable service to millions of consumers and businesses based on our trusted content. The allegations are demonstrably false, since many businesses that advertise on Yelp have both negative and positive reviews. These businesses realize that both kinds of feedback provide authenticity and value. Running a good business is hard; filing a lawsuit is easy. While we haven't seen the suit in question, we will dispute it aggressively.
"