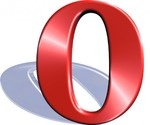 After putting the popular browser into version 10.5 alpha just 10 weeks ago,
Opera
has released the final version of the browser today, with a plethora of new updates.
"Opera 10.50 is the fastest browser in almost all speed tests,"
says Lars Boilesen, CEO of Opera Software. We have heard the same claim from
Google
with their
Chrome
browser but I'm sure concrete data will be out later today on the matter.
Opera says the updated browser uses "a new JavaScript engine, Carakan, and a new graphics library, Vega," as a way to get the fastest speeds.
Additionally, Opera 10.5 adds "Private browsing," which allows users to use "private browsing to remove specific sites from your browsing history. Unlike other browsers, Opera 10.50 allows you to browse privately in a tab or in an entirely separate window."
Finally, the browser has Aero Glass and Peak integration and improved standards support for HTML5 and CSS3.