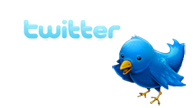 According to the
Gigatweet
counter, the incredibly popular social network service
Twitter
has hit 10 billion "tweets," seeing fast growth from past milestones.
1 billion tweets was hit in November 2008, and 5 billion was hit in November 2009.
Given the current
pace
of tweeting, Gigatweet has projections for when future milestones will hit, with 20 billion coming as soon as 197 days from now, or about mid-September.