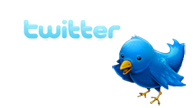 Twitter
users can now opt-in to allow for current location sharing, a feature that will append your Tweets with your geolocation.
Adds Twitter co-founder Biz Stone of why they added the feature:
"A recent burst of interest in location sharing applications, games, and services has many Twitter users excited about appending geographic data to some of their tweets."

The real question remains as to how many users will opt-in to the optional feature or even what the point is. Still, once a good number of celebrities opt-in, it is likely many followers will do the same. Those who frequent at
pleaserobme.com
will then have a field day.
Full instructions from Twitter
: