US broadcast network ABC is ready to take advantage of the iPad when
it launches tomorrow
.
Their new iPhone app is already available in the iTunes Store. It's only compatible with the iPad and won't work on the iPhone or iPod Touch.
Like many internet video sites,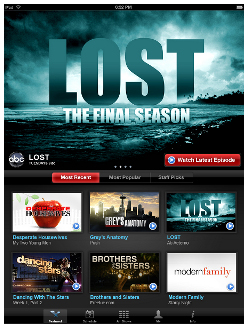 ABC's website uses Flash to stream video, which isn't supported by any version of the iPhone OS.
The ABC app allows iPad users to stream full episodes of shows like Lost and Grey's Anatomy. It can also be used to get details of ABC's broadcast schedule.
Based on the description in the iTunes Store it will work only on Wi-Fi, and not across 3G. This isn't surprising given AT&T's history of
objections to streaming video
applications for the iPhone.