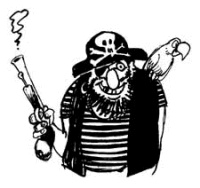 DigiProtect
, which works with
ACS:Law
in the UK to send thousands of threatening letters to alleged Internet pirates, has defended its work from growing criticism. UK consumer magazine
Which?
received complaints from people saying they were wrongly accused of copyright infringement crimes.
The letters sent to Internet users orders them to either pay a fine or face going to court. However, the firm told the BBC that it is just acting to protect its rights-holders, whom it declined to mention by name but described as
"musicians or producers."
DigiProtect identifies when a client's content is being shared illegally on a network and attempts to acquire the IP address of the sharer. With this information, its lawyers can get a court order enabling the retrieval of the physical address of the user associated with the Internet connection account.
Users receive letters telling them to pay around £700 per infringement or face court action. Service provider O2 has not been impressed with the targeting of its customers, condemning attempts to
"bully or threaten"
them.
ACS:Law and DigiProtect deny that they bully O2 customers.
"The approach we use is the only proven effective proceeding,"
DigiProtect told the BBC
.
"With the infinite number of products offered on file-sharing networks, no other process would even be possible, this is just another example of the astronomical dimensions that file-sharing has taken on."
It admitted that the process used to retrieve IP addresses of file sharers in order to engage in legal action is largely
"automated."
Also, the firm admitted that it is possible for the wrong person to be identified.
"In some cases the subscriber is not the rule breaker, but as they own the internet access they are our initial point of contact. We make an enquiry of them as to how the infringement occurred and progress with the matter in an appropriate way depending on the response given,"
it said.