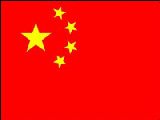 An official report in China has shown the reach of a widespread variant of
Conficker B
in the country as of late last year. The report from the
National Computer Network Emergency Response Technical Team (CNCERT)
reported 7 million Internet-connected machines in the country infected with the Conficker B in the first half of 2009.
In the second half of the year, the number of Conficker infections in the country varied but only spent one week under 5 million PCs. From the figures, China had up to 28 percent of the worldwide Conficker reach within its borders, depending on the week.
Chinese users are found to be hit more easily by worms that in other areas of the world. About 4 percent of the country's 380 million Internet users run no security software at all, and the higher rates of pirate software also has an impact with services such as
Automatic Updates
being disabled.
China also had anywhere from
125,000 to over 300,000 IPs infected with Conficker C
during the second half of last year, giving it up to 20 percent of the world's infections for that variant.