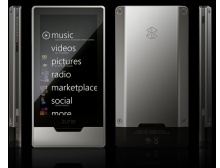 A
ZuneBoards
post today has revealed that the
Zune
and
Zune HD
media devices have finally been hacked, as of today, meaning all XNA limitations are no longer a problem.
A few of the current XNA limitations are no 3D, no Internet access, and performance peaks that are not very high given the hardware.
The
ZuneBoards Development Front
, which consists of "itsnotabigtruck", "Netrix" and "Nurta," says that all Zune models, past and present are now hacked and will "for the first time, run applications directly on top of the Zune
firmware
," giving users and developers full access to the firmware and hardware, without limitations.
Dubbed
OpenZDK
, the hackers behind it say there have been very few apps written so far, but admittedly OpenZDK is newly released.
That being said, developers can now add emulators, 3D games, port classic games, and also create full-on app stores, like
Cydia
for jailbroken iPhones.
Read the OpenZDK wiki here:
OpenZDK Dev Wiki