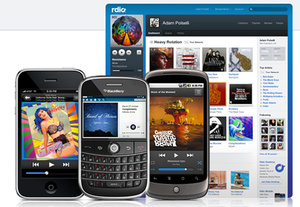 Last October, billionaires Janus Friis and Niklas Zennstrom, the creators of the Kazaa
P2P
client as well as
Skype
,
announced that they had developed and financed
a new unlimited music subscription service dubbed
Rdio
.
This week, the service has finally launched, working both through a Web browser and on a number of smartphones including Android devices, BlackBerrys and the iPhone.
The service offer unlimited, on-demand access to over five million tracks for a monthly fee of $4.99 USD for Web-only or $9.99 for Web and phone.
While that may sound similar to
Rhapsody
, which has a loyal, but small following,
the founders are emphasizing
that Rdio allows users to listen from anywhere in "the cloud," including through their phones, instead of needing to download DRM-laced music locally.
Rdio has content deals with
EMI, Sony, UMG
and
Warner
and hundreds of indies, so the selection won't be limited by any means.
The service also has social networking features, such as sharing with friends, which was a staple of
Lala
and
Microsoft's Zune
platforms.