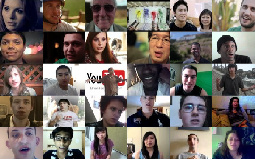 Google Inc.
's video sharing website,
YouTube
, and the prestigious
Guggenheim
Museums have partnered to search for creative online videos. The pair have launched a competition, announced on Monday, which will allow anybody to submit a video through a channel set up for it.
The competition is called
"YouTube Play. A Biennial of Creative Video"
, and it will select 20 videos from the community to presented at the Guggenheim in New York on October 21.
"Creative online video is one of the most compelling and innovative opportunities for personal expression today,"
said
Solomon R. Guggenheim Foundation director
Richard Armstrong
.
"'YouTube Play' demonstrates this is within the reach of anyone who uses a computer and has access to the Internet."
The 20 chosen videos will also be projected at museums n Berlin, Bilbao and Venice. Entrants must submit a video up to 10 minutes and a written statement to
YouTube.com/play
.
A jury of top artists, filmmakers, designers and musicians will select the 20 winning videos from 200 finalists. Entrants can submit creative videos with art, animation, graphics, narrative or non-narrative videos and entirely new art forms, on any subject of their choosing.