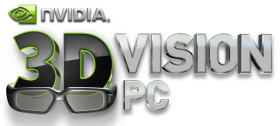 While
Sony
is showing off 3D features of the
PlayStation 3 (PS3)
console today at E3,
NVIDIA
with support of many big names in the PC industry is trying to push the
"3D PC"
to consumers. Using the popularity of movies like
Avatar
and
Alice in Wonderland
, and the selection of PC games that be displayed in 3D with right hardware, NVIDIA argues that a 3D PC offers the broadest solution for enjoying 3D entertainment at home.
What is a 3D PC? A 3D PC is technically a PC or a notebook on the market that meet the following minimum requirements...
Includes a pair of 3D active-shutter glasses.
A 120Hz 3D-capable display in the form of a desktop LCD monitor, a 3D projector, a 3D TV, or a notebook PC with an integrated 3D-capable LCD.
A discrete graphics processor that is capable of delivering high definition imagery to the 3D display
Among the partners NVIDIA has enlisted in pushing 3D PCs are Alienware,
Asus
,
Dell
,
Microsoft
,
Toshiba
and more to offer the products. Additionally, web stores are also adding 3D PC categories to sell products that meet the three requirements. NVIDIA argues that with a 3D PC you can have access to 3D Hollywood movies through
Blu-ray
hardware and compatible software such as Cyberlink's line-up.
It pointed out that the recent
Masters golf tournament
was the first major sporting event to stream live 3D over the Internet, as well as the 1,000 or so 3D videos on
YouTube
. NVIDIA is working with
Adobe
and
Microsoft
to enable better live
streaming
of 3D video.
Camera manufacturers including Sony and
Fujifilm
are bringing 3D digital consumer cameras to the market, which you could view and edit on a 3D PC too, NIVIDIA points out.
And of course, who could forget 3D gaming. NVIDIA cites more than 425 PC games that work
"beautifully"
with
NVIDIA 3D Vision
technology. Of course, there have also been many official and unofficial modifications to recently released PC games to enable 3D gaming.
"ASUS has a strong track record of pioneering new categories of PCs, as we did with the netbook,"
said
Jerry Shen
, CEO of
ASUS
.
"Now ASUS is very bullish on developing the 3D PC category by shipping notebooks, desktops and an all-in-one PC equipped with NVIDIA 3D Vision. We believe that all entertainment-based PCs will become 3D capable within a few years."
"People wondering where the cool 3D content is, need to look no further than a 3D PC,"
said
Hidehito Murato
, Chief Marketing Executive at Toshiba.
"We embrace the advent of 3D Vision-based notebooks which allows users to go 3D 'on the go'. This is by far, one of the most captivating technologies ever introduced on the PC and has uses for practically every type of digital entertainment. The era of 3D is upon us!"