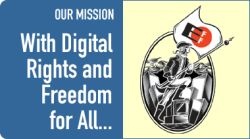 The
Electronic Frontier Foundation (EFF)
, and The
TOR Project
have developed an add-on for
Mozilla
's Firefox web browser designed to simplify the use of HTTPS for web users. HTTPS combines the
Hypertext Transfer Protocol (HTTP)
with
SSL
to provide encryption for web browsing.
The new Firefox extension (
HTTPS Everywhere
) was inspired by the launch of Google's encrypted search option. The EFF and TOR Project wanted to ensure that every search sent by a browser was encrypted, and that encryption would be enabled for a wide array of other websites including
Wikipedia
,
Twitter
,
Facebook
,
PayPal
and more.
"Many sites on the web offer some limited support for encryption over HTTPS, but make it difficult to use,"
says the EFF
.
"For instance, they may default to unencrypted HTTP, or fill encrypted pages with links that go back to the unencrypted site. The HTTPS Everywhere extension fixes these problems by rewriting all requests to these sites to HTTPS."
Google's https version of its search engine is located at
https://www.google.com
, and with HTTPS Everywhere, even if you attempt to load the URL without the vital
"s"
included, the extension will automatically load the https link. The same goes for Wikipedia, Twitter, Facebook, New York Times and more. It also attempts to ensure that your traffic within the sites is encrypted as you move through pages.
Get it at:
https://www.eff.org/https-everywhere