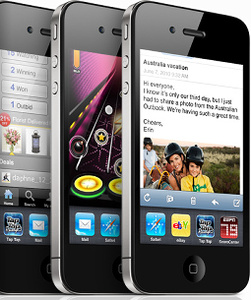 Consumer Reports
has revealed that it cannot recommend
Apple
's
iPhone 4
handset following tests on the model's reported signal problems, adding that
AT&T Inc.
is not the main culprit. The respected nonprofit organization publishes guides on all kinds of products and makes recommendations to consumers.
The publication tested the
iPhone 3GS
,
Palm Pre
and other handsets too and said none of them experienced the same kind of signal problems as the iPhone 4.
"Consumer reports is a respected publication. This could have an impact on iPhone sales,"
Kaufman Bros
analyst
Shaw Wu
said.
Apple has been sued by customers in at least three complaints related to the antenna problems with the handheld.
"When your finger or hand touches a spot on the phone's lower left side -- an easy thing, especially for lefties -- the signal can significantly degrade enough to cause you to lose your connection altogether if you're in an area with a weak signal,"
contributor
Mike Gikas
said in a post on the Consumer Reports website.
"Our findings call into question the recent claim by Apple that the iPhone 4's signal-strength issues were largely an optical illusion caused by faulty software that 'mistakenly displays 2 more bars than it should for a given signal strength."
Gikas recommended as a temporary measure that iPhone 4 owners cover the gap in the wraparound antenna with duct tape or another non-conductive material. Consumer Reports did give the iPhone 4 high scores for several of its features, including its battery life, display and video camera quality. However, it will not be classified as a "recommended device" until Apple delivers a permanent and free fix for the antenna problem,
according to Gikas
.