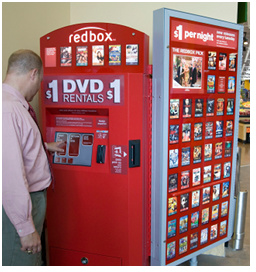 Starting today, kiosks from Redbox will be offering Blu-ray discs for rental in addition to DVDs.
The discs, which will rent for $1.50 (plus tax) per night compared to $1.00 for DVDs, will initially only be available at a little more than half of their locations. As with DVDs, they can be returned to any Redbox kiosk.
The company expects to be stocking Blu-ray discs in all of their kiosks before the end of the year.
The initial selection of Blu-ray discs includes
The Book of Eli
,
Bounty Hunter
,
Brooklyn's Finest
&
Green Zone
.
With approximately 23,000 locations, Redbox is the
leading operator
of DVD rental kiosks in the US.