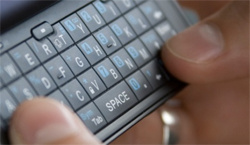 According to a new study from the
Pew Research Center's Internet & American Life Project
, 72 percent of American adults now text from their phones, with 87 percent of teens texting, as well.
Adult texting use is up from 65 percent in September 2009 and 58 percent in the same period of 2007.
While more adults are texting now than ever, they still don't do it very often. Typically, adults only send and receive 10 texts per day. Teens average over 50.
Pew surveyed 2,252 adults earlier this year.


"We've reached a point where enough other people are texting that (adults) are drawn into using it because they can finally use it to communicate with a substantial number of their friends and family,"
writes Amanda Lenhart, Pew senior research specialist, via
MSNBC
.

"It may be that folks have been pushed by pricing into unlimited texting plans, which has the effect of encouraging people with those plans to text more, because they no longer think of the cost, and then text more people more often."