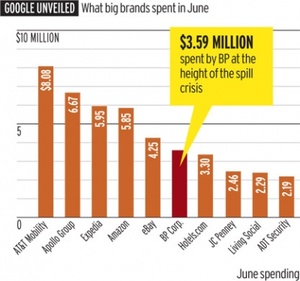 Thanks to a new internal
Google
document leaked by
Advertising Age
, there were multiple companies that spent over $1 million in June to buy ads in Google's search results.
The largest jump came from
BP
, who spent $3.59 million for the month, jumping from $57,000 a month before their tragic oil spill.
At $3.6 million, BP moved into sixth place among companies spending large amounts of cash on ads through Google.
AT&T
, thanks to the launch of the high profile
iPhone 4
, topped the list, spending $8.08 million for the month of June.
Apollo Group
, the company behind the University of Phoenix, came in second, spending $6.67 million for the period.
Those companies were followed by
Expedia, Amazon, eBay, BP, Hotels.com, JC Penney, Living Social
and
ADT Security
to round out the top 10.
Google did not confirm the document, but AdAge says multiple sources with "direct knowledge of spending levels" verify the data as accurate.
Overall, 47 companies spent over $1 million in June, another 71 spent between $500,000 and $1 million and another 357 spent between $100,000 and $500,000.