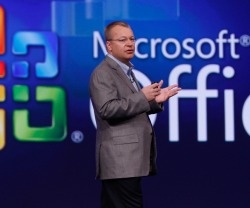 Nokia's
Board of Directors has appointed
Stephen Elop
President and Chief Executive Officer of Nokia as of September 21. Elop currently heads
Microsoft's
Business Division. Before joining Microsoft, Elop held senior executive positions in a number of US-based public companies, including Juniper Networks, Adobe Systems Inc. and Macromedia Inc. He holds a degree in computer engineering and management from McMaster University in Hamilton, Canada, which is his home country.
Elop commented on his new Nokia position:
I am extremely excited to become part of a team dedicated to strengthening Nokia's position as the undisputed leader of the mobile communications industry, with a relentless focus on meeting the needs and expectations of customers. Nokia has a unique global position as well as a great brand upon which we can build. The company has deeply talented and dedicated people, and I am confident that together we can continue to deliver innovative products that meet the needs of consumers. The Nokia slogan clearly states our key mission: Connecting People, which will acquire new dimensions as we build our portfolio of products, solutions and services.
Olli-Pekka Kallasvuo will leave his current position as President and CEO of Nokia on September 20, 2010 and his position on the Nokia Board of Directors with immediate effect. He will continue to chair the Board of Nokia Siemens Networks in a non-executive capacity.
Kallasvuo has been the target of criticism from investors for quite some time now. The markets have been displeased with Nokia's ability to compete with
Apple's iPhone
and, more recently,
Android
based smart-phones. It remains to be seen whether the change in leadership along with new phone models, such as the
Nokia N8
will restore faith in the company.