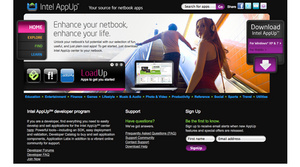 Intel
has launched a dedicated
App Store
for netbooks this week, 8 months after showing off the beta at the
CES
event.
Dubbed
AppUp
, the beta is now open to everyone.
The store is compatible with all Windows 7, Windows XP and Moblin netbooks.
To download the main AppUp Center, you can visit AppUp.com or BestBuy.com.
Asus
says their netbooks will come preloaded with an Asus-specific version starting this month.
The AppUp store, just like the Android Market and
Apple
App Store, will offer paid and free apps for news, weather, multimedia, productivity, social networking and more.
So far, Adobe, Accuweather, Barnes & Noble, Funkitron, Gibson Guitars, iWin, Kaplan, KONAMI, and Lifetime
have submitted apps
.