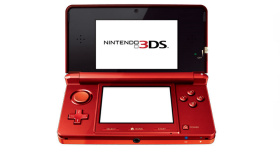 The German tabloid
Bild
is reporting today that the upcoming
Nintendo 3DS
will hit Japan on November 11th and then the EU in the "Spring of 2011."
Additionally, the tabloid says in Europe the handheld will be priced at €200.
In the past the paper has made some accurate reports on upcoming gadgets, including predicting Satoro Iwata's announcement of the Wii-mote in 2005.
The Bild is the best selling paper in all of Europe, but it is important to take
this story
as rumor because the tabloid tendencies of the paper and its shaky reputation for accountable reporting.
Nintendo has long said the 3DS would be released in 2011, and Iwata will announce the launch dates and pricing on Wednesday during a press event.
Three of the handheld's launch titles will be
Mario Kart
3D,
The Legend of Zelda: Ocarina of Time
3D, and Professor Layton and the Mask of Miracle.