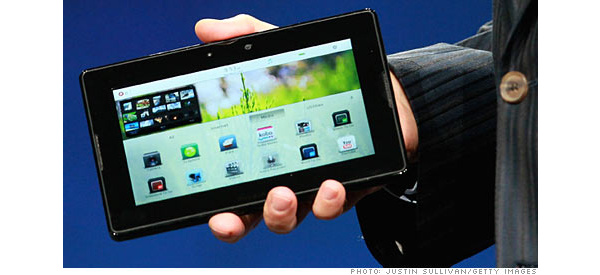 According to CEO Brian Dunn, Best Buy is already in talks with RIM in an effort to bring the upcoming PlayBook tablet to brick-and-mortar stores around the nation.
"When it comes to market, we're going to be very happy to offer it to our customers,"
says
Dunn.
Because the device does not have built-in 3G, there were questions about how the PlayBook would be distributed. Other tablet makers have deals with wireless carriers and therefore the tablets are offered in-store at thousands of locations.
Best Buy currently offers the
iPad
and
Dell Streak
.
The tablet will measure in smaller than the iPad at just 7 inches, but it is thinner at 9.7 millimeters. Furthermore, the tablet has a rear and front-facing camera, and the ability to natively playback Flash videos.
BlackBerry smartphone owners can tether their devices and use the 3G via the tablet.
The Playbook will not run on RIM's new BlackBerry 6 OS, instead it will run on a brand new mobile operating system created by QNX Software, which was acquired by RIM earlier in the year.