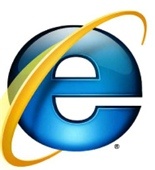 According to market researcher
StatCounter
, Microsoft's Internet Explorer web browser has dropped below 50 percent market share for the first time in many years. The figures showed that Internet Explorer's share had fallen to 49.87 percent in September, compared to 51.4 percent in August and 58.4 percent a year ago.
Mozilla
Corp.'s Firefox browser followed IE with 31.5 percent of the market, up from 30.09 percent. Google's
Chrome
browser increased its share to 11.54 percent, which is more than three times its share from September 2009.
"This is certainly a milestone in the Internet browser wars,"
said
Aodhan Cullen
, CEO of StatCounter.
"Just two years ago IE dominated the worldwide market with 67%."
The firm suspects that a deal between
Microsoft
and the European Union to reach a settlement in an anti-trust lawsuit which saw Microsoft's Update service push out a
"Browser Choice"
application to millions of Windows users may have been the blow that knocked Internet Explorer below 50 percent.
In Europe, Internet Explorer claims a 40.26 percent share of the market, down from 46.44 percent last year. Competition for dominance in the browser market has lead to much more choice for Internet users, and has pushed vendors to focus on speed, security and stability. Even Microsoft's Internet Explorer 9 betas have impressed reviewers for its improvements over IE8 in terms of speed.
Of course, StatCounter is only one firm that tracks browser usage, and just last week,
Net Applications
credited IE with a 59.7 percent share during September. Nevertheless, the downward trend for Internet Explorer is clearly continuing, while Firefox and Chrome continue to consume more of the pie.