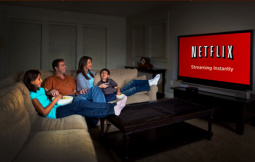 Engadget
has posted this weekend that
Netflix
is already testing a streaming-only plan for U.S. subscribers.
For $7.99, the streaming-only plan will give users a chance to watch 15,000 movies and TV shows from Netflix's "Watch Instantly" catalog.
Users will not get any physical media rentals in the mail, however, if they choose the plan.
Mixed plans that offer unlimited
streaming
and 1-disc-out at a time currently cost subscribers $10 per month.
CEO Reed Hastings had implied that the streaming-only model has been very successful in Canada and so they have accelerated plans for the U.S. version.