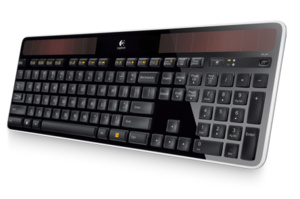 Logitech
has unveiled their first wireless solar keyboard, dubbed the K750.
The K750 can power itself from all light, include indoor light, eliminating the need for batteries, ever.
"A keyboard is still the best input device for typing emails and IMs, updating your Facebook™ page or posting responses to your favorite blogs – and the Logitech Wireless Solar Keyboard K750 is the next big innovation in keyboard technology,"
added Denis Pavillard, VP of product marketing for Logitech's keyboards and
desktops
.
"The Logitech Wireless Solar Keyboard is powered by light but can work in total darkness for up to three months. Plus, with its PVC-free construction and fully recyclable packaging, it's designed to minimize its footprint."
The solar panel is integrated right into the keyboard meaning there is no external charger or brick necessary.
Logitech includes a solar power app that "features a lux meter to help you get the necessary light, makes it easy to get at-a-glance information about battery levels, and even alerts you when you need more power."
The gadget will be available starting November 15th with a price tag of $80 USD.