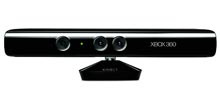 Microsoft
has raised its three million holiday sales prediction of the new
Kinect
motion sensing system to five million following stronger-than-expected presales figures.
The $150 device that allows a user to control an Xbox 360 and its games software with movements and voice commands is set to go on sale at midnight in over 30,000 stores in the United States. It comes into a market dominated by the
Nintendo Wii
console and on the heels of
Sony
's
PlayStation Move
system for the PS3.
Industry figures hope that the new motion control systems will help to spark more life into the $60 billion industry following a slump brought on by the global recession. Microsoft's prediction of Kinect's success this holiday season, if true, could potentially add up to $750 million in revenue for the Redmond-based giant for the quarter.
"Presales have exceeded expectations,"
said Mattrick
.
"People are coming to us and saying this is must-have holiday item."
Mattrick has warned that the company expects supply shortages throughout the holidays.
"We're anticipating that some of our partners will be sold out at points of time this holiday, and that's something we'll do our best to work through,"
he said
There will be midnight events at 5,000 U.S. stores to mark the launch of the new product, with queues already gathering in late afternoon outside Toys R Us in New York's Times Square.
Kinect goes on sales in Europe on November 10, followed by Asia on November 18.